3 min read
TMC's CEO: "The green transition is the right way"
By: TMC on May 30, 2023 12:47:49 PM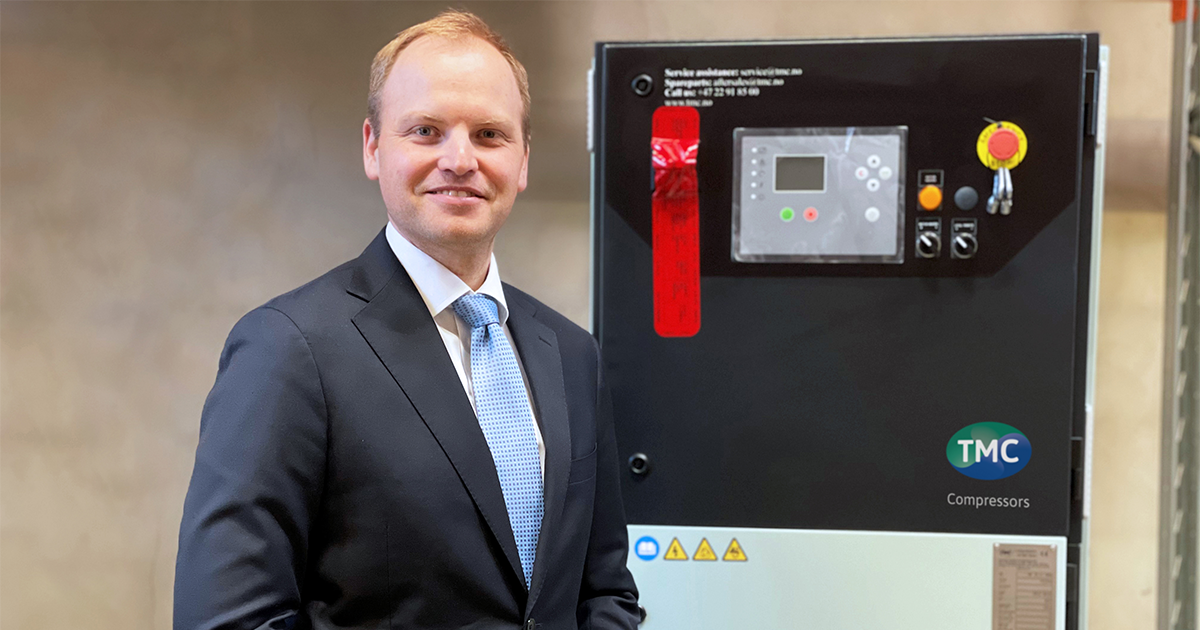 In this interview, Christian Ness, CEO of TMC Compressors, shares his views on the maritime industry's green transition, how the company identifies with it, and how events such as Nor-Shipping provides improved conditions for companies such as TMC.
"Hindsight is a beautiful thing, but I think it's fair to say that shipowners and yards were not ready for our CO2 reduction focus when we first introduced our Smart Air compressors some two decades ago. We were probably a decade too early, but today I genuinely believe that it's our unwavering focus on energy efficiency as CO2 and cost-reducing measure has made us the favored supplier of compressors for offshore and marine use," smiles Christian Ness.
Ness became CEO of TMC in 2021, after also having spent seven years with the company in various management positions earlier in his career.
Upon his CEO appointment, Ness said that "TMC has always believed that the supplier industry should play a key part in developing green technologies that can help drive down shipowners' and operators' lifecycle costs and help reduce the shipping and offshore industries' climate footprint. We will continue our technology development along this path."
Is this comment still valid today, Christian?
"Absolutely. Probably even more so today. All our product development is directed towards making shipping greener and more sustainable, and in the last couple of years we have for example seen an explosion in demand for our ALS compressors. We have also seen growth in demand for boil-off gas compressors, and we have delivered system solutions to cut emissions further," Ness says.
ALS and boil-off gas
The ALS method – or Air Lubrication System – uses (micro) air bubbles to reduce the resistance between the ship's hull and seawater. The distribution of air bubbles on the surface of the hull reduces frictional resistance and, therefore, saves energy. TMC provides the compressors that delivers the compressed air to the Air Lubrication System. The demand for ALS compressors has already skyrocketed, and Ness believes another compressor type – boil-off gas compressors – also will see growth in demand going forward.
Onboard a vessel that uses LNG as fuel, ambient heat increases the temperature inside the isolated LNG tanks causing liquid to evaporate. The gas generated from this is known as boil-off gas. The system captures the boil-off gas from the LNG tanks onboard, compresses it with a TMC BOG compressor and injects the gas to the different consumers.
"By compressing the boil-off gas to the required pressure in order to supply it as fuel directly into the ships engines, you have an optimal system with regards to energy efficiency. Utilizing boil-off gas as a valuable resource is a clever way of reducing the vessel's fuel costs quite significantly, with the added benefit of lowering harmful emissions to air too," Ness adds.
Industry pioneers
Recently, TMC has also introduced its System Solution® concept that ensures that you obtain an optimized and complete compressed air system delivering the right flow, pressure and air quality at the right temperatures in the most energy- and maintenance-efficient way. Lead customers have verified that a holistic system design approach has a significant positive impact on compressor performance and operational costs.
But it's not only TMC's products that are subject to a strict environmental focus. The rest of the operation is also addressed. For example, all the company's facilities are solely driven by clean hydropower, and the company is turning every stone to reduce the use of plastic in its operations.
"We consider ourselves to be industry pioneers with regards to our early and strong environmental focus. Now, almost everyone tries to do the same, which I personally think is great. But we also like to think that we've have a decade's head start on our competitors. We have a wonderfully dedicated team and working climate that fosters innovation and environmental focus," he smiles.
Next big thing
What's the next big thing from TMC?
"Our System Solutions approach, which is already launched, will definitely be up there as the results are highly impressive. I also expect remote conditioning and monitoring systems to become popular. We have already launched it very, very quietly, and the potential is enormous. We conduct remote monitoring and conditioning of our compressors and provide energy reports to our customers, who immediately can see the obvious environmental and financial benefits," says Ness.
Praises Nor-Shipping
To help direct TMC on its path to a sustainable future, the company has chosen three of UN's development goals to guide its business strategy: Decent work and economic growth, climate action, and life below water. However, the company seeks inspiration from a multitude of sources for both inspiration and guidance. Nor-Shipping is one such source.
"Nor-Shipping's strong and increasing focus on sustainable shipping has made it easier for companies such as TMC to attract attention to new greener technologies. The event is the home of innovation and has played an important role in getting the maritime industry to embrace the fact that the industry is key to realize the huge potential on, above and below the waves to drive trade, enable new industries and keeping the business world turning," Ness concludes.
Related Posts
2020-08-09
A couple of weeks ago, we provided a brief introduction to air lubrication systems (ALS). Today, ...