2 min read
COSCO opts for Smart Air for WTG foundation installation vessel
By: TMC on Nov 9, 2023 6:17:53 AM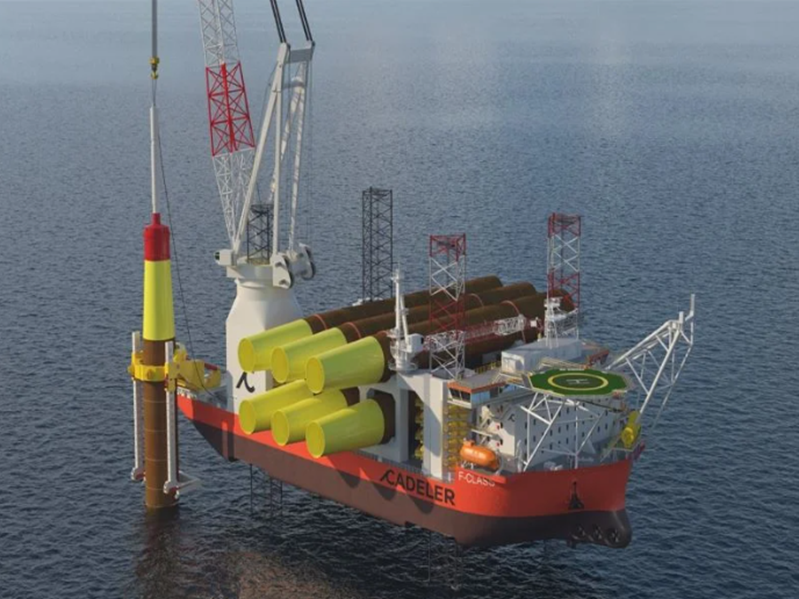 9 November 2023 – COSCO Heavy Industries has ordered what is amongst the marine market's most environmentally friendly marine compressed air system to a jack-up foundation installation vessel the shipbuilder is constructing for Cadeler A/S.
(Photo courtesy of Cadeler A/S)
Cadeler is a hybrid between a shipping and a construction company operating in the offshore wind industry. The company specializes in the transport and installation of foundations and offshore wind turbines.
Under the contract, TMC Compressors will provide a complete marine compressed air system based on Smart Air compressors, which offer up to 40 percent energy saving compared to conventional compressors. The system will consist of control and service air compressors. TMC has not disclosed the value of the contract.
"This is a large vessel, which requires a large capacity marine compressed air system. Consequently, the more energy efficient the system is, the proportionate cost savings become even greater. That is why COSCO and Cadeler have gone for our Smart Air system," says Hans Petter Tanum, TMC's director of sales and business development.
Frequency-controlled
TMC's Smart Air compressors are based on a frequency-controlled technology that offers precise control of the compressor speed. Simply explained: the speed of the electrical motor will adjust itself according to what is required to produce the exact air volume necessary to meet the actual compressed air consumption at all times. In turn, lower air consumption requires less speed on the compressor, and this directly results in less power consumption.
Cadeler's F-class vessel is designed to cater for the largest projects in the renewable wind offshore industry. The vessel can be converted from installation of large foundations to installation of wind turbine generators (WTGs) within a short period of time. It will enable Cadeler to target the growing segment of large-scale foundation installations and to offer a complete set of services within transport and installation of offshore wind farms.
"Every customer and project are vitally important to us, but as self-proclaimed offshore and marine geeks it is also great fun to be part of large and ground-breading vessel project such as this one. I reckon most industry people would agree with me on this," adds Hans Petter Tanum.
TMC, which supplies marine compressors solely for marine and offshore use, will manufacture and assemble the equipment in Europe and ship it to COSCO's shipyard in Qidong, China.
TMC is headquartered in Oslo, Norway.
Related Posts
2022-09-20
20 September 2022 – The VARD shipbuilding group has contracted TMC Compressors (TMC) to supply the...
2021-09-13
If you're looking to build an energy-efficient fleet, TMC air compressors should be top of mind.