1 min read
VARD goes green for newbuild stern trawler
By: TMC on Sep 20, 2022 7:15:07 AM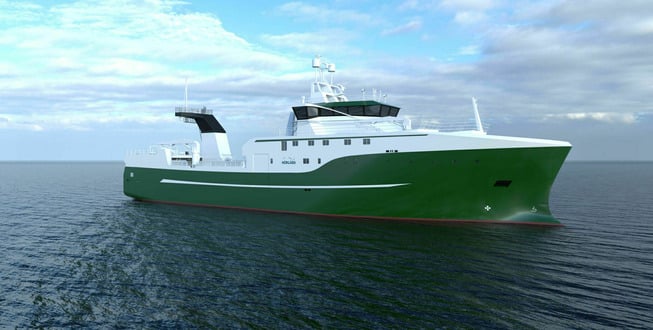 20 September 2022 – The VARD shipbuilding group has contracted TMC Compressors (TMC) to supply the market's most energy efficient marine compressed air system to a stern trawler that is being built for Norwegian fishing company Nergård Havfiske.
At the heart of the vessel's marine compressed air system is TMC's Smart Air compressors, which can offer up to 40 percent energy saving compared to conventional compressors. The system will consist of two control and service air compressors plus air dryers.
"Fishing companies and their shipbuilders are increasingly investing in new technologies to protect marine life and reduce climate gas emissions as much as possible. Companies such as TMC are benefiting from this. We probably launched our Smart Air compressors a decade before shipowners and yards were ready for them, but the interest has exploded in recent years," says Hans Petter Tanum, TMC's director of sales and business development.
TMC's Smart Air compressors are based on a frequency-controlled technology that offers precise control of the compressor speed. Simply explained: the speed of the electrical motor will adjust itself according to what is required to produce the exact air volume necessary to meet the actual compressed air consumption at all times. In turn, lower air consumption requires less speed on the compressor, and this directly results in less power consumption. Read more about Smart Air Compressors here.
"Utilising Smart Air compressors is a simple yet ingenious way to reduce both operating costs and harmful emissions to air," adds Tanum.
Norway-headquartered TMC will manufacture the equipment in the Nordic region and deliver it to the yard VARD Brattvaag in Norway. TMC has not disclosed the value of its contract.
The stern trawler of VARD 8 02 design is developed by Vard Design in Ålesund, Norway. The new vessel will have a length of 80.4 meters and a beam of 16.7 meters. The VARD 8 02 trawler design is a well-proven design that VARD has continuously developed to meet the latest demands for fish health management, efficiency, and environmentally friendly operations. Delivery of the vessel is scheduled from Vard Brattvaag in Norway in Q4 2023.
Related Posts
2023-11-09
9 November 2023 – COSCO Heavy Industries has ordered what is amongst the marine market's most...