When we say that our compressors are built for the lifetime of your ship, we will support it. But a statement like that doesn't fulfill itself. Here's how the TMC Aftermarket makes good on our promise.
Marine environments are harsh on all sorts of equipment, no matter how robust they may be constructed. From more than 25 years of manufacturing compressors for marine and offshore use, we've developed our model to ease maintenance and secure professional support leveled to your expectations – from cradle to grave so to speak.

TMC`s lifelong support doesn't come out of nowhere – you need to be hands-on, think preventively and take precautions. Our next generation compressor technology is built on expertise and commitment, and with it we take pride in offering lifelong support.

In short, there are two ways of looking at a marine compressor purchase: You either buy a product from a supplier, or commit to a strategic partnership. At TMC Compressors, we have never, and will never, identify ourselves simply as a compressor supplier. But what does a strategic partnership with TMC Compressors really mean? Let's start at the beginning.


Choosing your marine compressor
A compressor will never be just a compressor – especially not a compressor intended for marine or offshore use. At TMC we develop and produce products for marine and offshore industry only, tailored to your needs. We always keep updated on new regulations, and adopt them in our products. We never stop exploring or learning.

Our experience in various working environments matches the variety of setups we provide, whether it's adjustments in size, capacity or pressure. Our focus is that the air quality from our systems always match the downstream equipment. This will reduce your operational cost and secure less wear and tear on the installed systems onboard. We've invested in a huge spare part stock and have a worldwide service team on standby.
We've invested in a comprehensive spare part stock and have a worldwide service team on standby
When we've decided on the best setup for your project together, we take pride in delivering a package to your needs, on schedule and to the agreed-upon price. We can also supervise the actual installation, should you have any concerns about that part of the project. But the real difference maker, we believe, comes in the next phase: Operating your compressor at sea.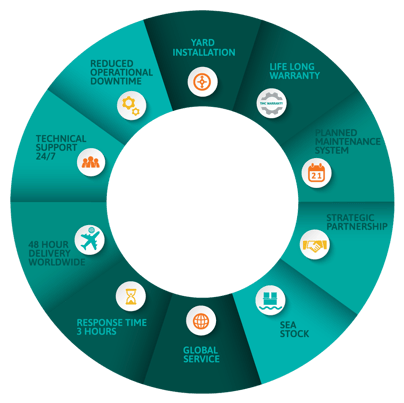 You've now entered into the operation part of our strategic partnership. You can stretch this as far as you want or you can simply operate according to your own program. Our advisors and technicians are fully committed to ensuring the best utilization of your compressors, and are ready to assist you in conducting business reviews, performance analyses and technical reports. But how does this make the compressor outlast your ship? Let's talk about our lifelong support.


Lifetime support requires a strategic approach
Along with every TMC marine compressor, we deliver a standard service chart for the equipment, which you can easily embed into your own maintenance system. This is a planned maintenance strategy and setup specifically designed for marine use, which alerts you on parts that need changing based on our initial testing and database. The smart controller provides you with a complete overview of the compressor's performance and service level.
We build our compressors to last, and, given the required amount of attention, they will do just that
Ordering spare parts on-the-spot and separately can be both costly and time-consuming. Therefore, we reach out to our customers to plan the maintenance ahead, and to put together a suitable stock of spare parts, lubricants and coolant. This enables you to be preventive about your maintenance.

You might be about to start a several-month-long voyage without plans of docking. Let us know, and we'll plan the inventory with you. A bulk order months before you need spare parts is a lot more efficient than several individual orders on the day you actually need them.
Read more about our spare parts solutions.

24/7 technical support and global service
We have a unique system for keeping track of all compressors we've ever delivered, and a team of experienced technicians on standby.

Forget waiting for a call center to patch you through while the bill keeps rising – with the TMC solution you have a direct line to our technical support team 24/7. We are there to share our experience with your team whenever needed.

Reach out either by phone or email, and we'll solve the issue together. TMC can also deliver a remote monitoring system which gives you easy accessible online data of the plant's performance. And, if required, we can perform the monitoring for you.

Our maintenance plan and sea stock are designed for your particular usage. However, we know that unexpected events do occur.
Should you be in need of any consumable or spare part at any place in the world, we will deliver to your nearest airport within 48 hours
We always keep a large stock of spare parts for occasions just like that. This also includes our TMC compressor coolant & lubricant oil, which is developed solely for marine compressor usage (most technical breakdowns occur due to poor oil quality).
Learn more about our technical support team.


To know the industry, you need to be in the industry
Committing to the marine industry was an easy choice back in 1996, when we divided our industrial and marine focus into two separate companies. Rather than delivering average services in many different industries, we decided to specialize. This has resulted in a qualified team of marine compressor experts, where fast decision-making, short response time and never saying no to a challenge are at the core of our operations.
As in any strategic partnership, experience-making goes both ways: Our knowledge about marine and offshore industries is ever-growing. Continuous dialogue and reviewing performance are key factors to keeping any marriage healthy. And as a partner of TMC Compressors, you shall always be part of our "compressor family".
Today, we still deliver spare parts and servicing 30-year-old compressors. If that's not committing to making your compressor outlast your ship, we don't know what is.
Related Posts
2019-01-14
TMC supports WWF's work towards zero vision for harmful waste to the oceans!
2017-03-14
How do you safely decompress a complete 72-person crew of a distressed submarine? That was the...
2019-12-02
TMC Compressors and Sauer Compressors have entered into a strategic cooperation agreement in...