TMC Air Dryers
We ensure supreme air quality
When air is compressed, the concentration of moisture and other contaminants increases. If allowed to remain in the system, this corrosive mixture has a damaging effect on all pneumatic and air operated equipment, causing the risk of unnecessary corrosion, high wear and tear, reduced equipment lifetime and breakdowns.
Air dryers eliminate the risk of corrosion
A correctly designed air dryer will remove the moisture from the compressed air and eliminate the risk of damaging corrosion.
Keep maintenance costs at a minimum
Correctly calculated and sized air treatment systems extend equipment lifetime, and keep costs at a minimum.
Everything You Need for High-Quality Air
TMC delivers a complete program of filtration and separation products for compressed air systems. Compressed air filters remove oil and different contaminants from the compressed air, while air dryers of various kinds remove water vapor.
All TMC Air Dryers and Filters are designed and built for optimal performance in the actual given operating temperatures and conditions. TMC can design and deliver complete solutions made to individual customer requirements. TMC guarantees high quality, reliability and energy efficient operation. By installing a correctly calculated and sized air treatment system, consisting of air filters and air dryers, you will maximize the lifetime of your air operated equipment and keep maintenance costs at a minimum.
TMC delivers products to match every air quality class listed in the ISO8573-1:2010 standard. What our customers are saying
TMC's reliable Smart Air compressors help reduce costs and decrease harmful emissions to air. They are the perfect match for our commitment to reducing our impact on the environment.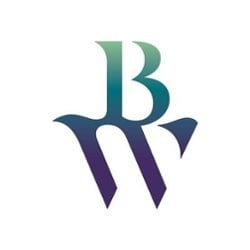 Tor Egil Gjulem
Head of Procurement, BW LNG
Spare parts are significantly more valuable to vessel operators when they are in stock. Hence, TMC helps to provide the reliability we need for our chemical tankers.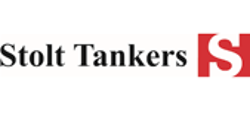 Bob Planken
Procurement Manager, Stolt Tankers
When operating a 385-metre long offshore salmon farm far from shore, you choose the most reliable equipment, because the entire operation depends on it. For marine compressed air systems, we chose TMC. Salve Epletveit
Technical Superintendent, Nordlaks Oppdrett AS
Golar's Hili Episeyo is the world's first converted FLNG vessel. She is currently operating on a long-term contract offshore Cameroon. Their innovative FLNG solutions have a smaller carbon footprint than most conventional liquefaction facilities and TMC contributes to this with its energy-saving technologies. TMC has supplied seven large Smart Air compressors, air dryers with 16,000 CM/hour capacity feed air compressors for N2 production. Lars Rysst
Maintenance Manager, Hilli Episeyo
Refrigerant Air Dryers – Preventing Vapor
The purpose of air dryers is to prevent vapor from forming within the pipe system. Refrigerant air dryers are among the most common types of air dryers due to their ease of maintenance and their cost-effectiveness. They're highly suitable for air-drying applications where a pressure dew point of + 3 degrees C is the lowest achievable.
Once the compressed air is cooled and water is removed, the air is reheated to approximately ambient temperature. This ensures no more vapor forms within the pipe system.
TMC refrigerant air dryers are equipped with a hot gas bypass control, which ensures a constant dew point even under different load conditions. Both air-cooled and water-cooled air dryer versions are available.

Technical highlights:
Constant dewpoint – Hot gas bypass control

Scroll compressor – Low noise & vibration in operation

Aluminum heat exchanger – no corrosion

Compact and space saving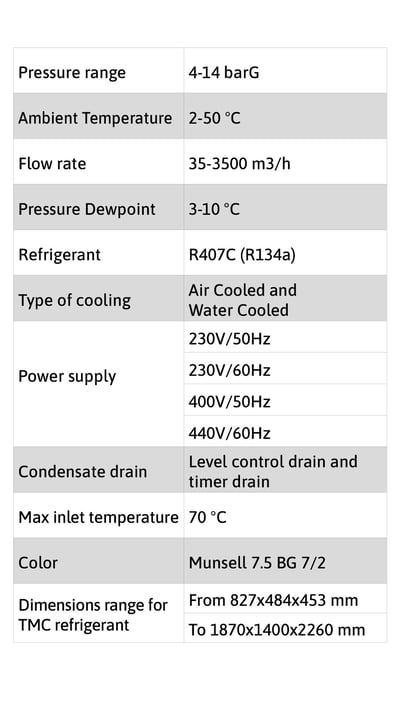 Desiccant Air Dryers
Desiccant air dryers work on the principle of moisture always migrating to the driest medium possible. Therefore, water vapor is removed from compressed air by passing it over a bed of adsorbent desiccant material. When the air gets in contact with the adsorbent material, water vapor transfers from the wet air to the dry desiccant.
However, adsorbent materials have a fixed adsorption capacity. Once this capacity is reached, they must be regenerated or replaced. Therefore, to provide a continuous supply of clean, dry compressed air, adsorbent dryers utilize two towers/receivers of desiccant material. At any one time, whilst one chamber is on-line, drying the incoming compressed air, the other is either off-line, being regenerated or is re-pressurized, ready to come on-line.
There are two types of desiccant air dryers: Heatless and Heated. The most common is the heatless type, especially for marine and offshore applications where high ambient temperatures is a challenge.

Technical highlights:
Dewpoint controlled operation

Intermittent operations

Saving purge air & energy when compressor not running or in offload

Dewpoint sensor with 4-20 mA and Modbus

Utilization of all desiccants

Pre & after filter in ultra-pleat design which are more flexible against pressure peaks. Pleated filter had low pressure drop and larger surface.

Robust shuttle valve & solenoid valve

Service-friendly dryer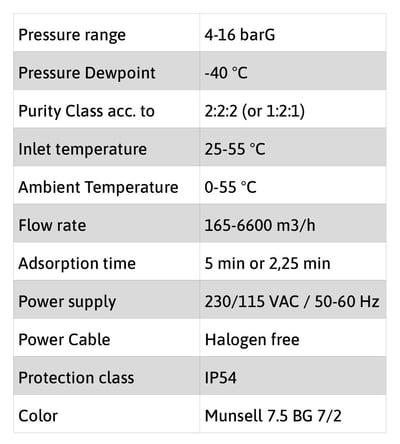 1. Depending on capacity, pressure, and inlet temperature.
2. Higher capacities and pressure are available on request.
Membrane air dryers
TMC membrane compressed air dryers are characterized by their compact design and low purge-air requirement. They are easy to install and maintenance free. Electrical connection is not required.
These units are often recommended for point-of-use applications, near explosive hazards, or in remote locations without power supply. Membrane air dryers can deliver pressure dew point down to -40 °.
Whether refrigerant, desiccant, membrane or combinations are the right fit for you, we can provide what you need. Contact us for a proposal, and we'll get right back to you.
Certifications and Quality

TMC is certified according to the quality standard ISO 9001, the environmental standard ISO 14001 and HSE standard ISO 45001, and is certified by all of the marine classification societies.